From the publication Writing Art on the Nillumbik Shire Council Art Collection 2006
Essay VIEW pages 18 – 22 by Gwen Ogden
"Janet Boddy, Where the Ibis Are and Doug Wright Head in the Landscape (Private Persons)   both work in a gestural/ expressive manner. Each requires the viewer to either recognise or discover meaning in symbols. In each case the paintings disclose meaning gradually. Janet Boddy has written that this painting refers persecution, intolerance and South African apartheid in particular. In Where the Ibis Are the prismatic quality of the surface seems to hold a vast body of clues. Fluorescent  flickers of life illuminate the dark and light bands set in grids. These bands are like crumpled ribbons in their softness and bars of a cage in their firmer shapes. Alternating light and dark colours suggest an element of positive/negative working in various depths up and down the painting. 
Within a formal construction the painter has created sets of marks, shapes, ebbs and flows of colour all rippling with the dark dampness and luminosity of light. Repetitive patterns of these floaty splinters and markings within the lighter bands suggest both order and randomness in nature.
It is easy to imagine such spaces filled with the cacophony of birds arriving and taking off in shallow water. The painting is full of movement and rhythm, yet the recurring, stencil-like effects produced by the horizontal barriers seem more dramatic than lyrical.
Janet Boddy is both poet and painter. Where the Ibis Are reveals a poetic quality of being both complex and compact at the same time. Lightness and heaviness of colour and soft formal grids overlaid with shimmers of life affirming brilliance involve all the senses. The emotional response can at times be as powerful as the articulated response. Gaston Bachelard suggests that, 'Of all the elements, water is the most faithful mirror of voices'… For a richer experience, listen to the  stirrings and sounds of this painting while contemplating meaning and intention. Barriers usually work to contain; the melody might not be all pleasant.   
This painting won the Eltham art award in 1989.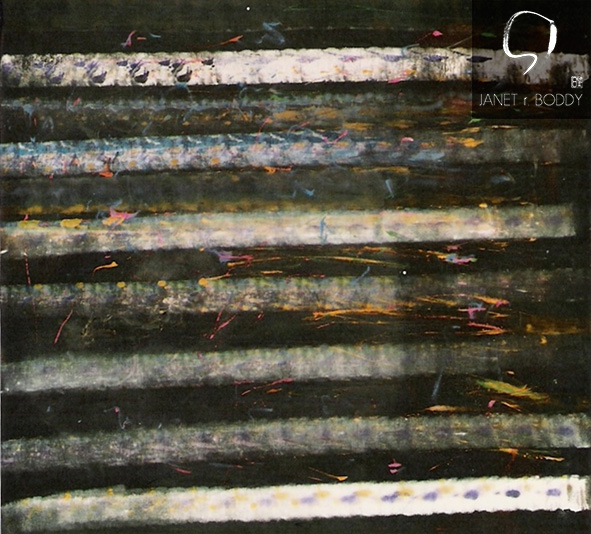 Where the Ibis are