Paintings are like meditations. To find ourselves we must first lose ourselves. Not to think, not to worry but to let go of the physical/ material and grasp our true relationship with life itself.  To find our inner nature. This can't be spelled out, only sensed. We understand through a haze. I paint first and understand later. Sometimes it takes years, allowing some force to guide me from both deep inside myself and way out there. I reach out my hand to find a greater understanding of things. 
To be transported to another space. 
We think too much. There is another part of us which knows, but which we seldom tap into. It is the thinking in our being – our whole selves or If you like, a higher self. By moving into a meditative space I seek to find that pure self – a kind of peace and acceptance of the physical world. 
I want my paintings to HAPPEN to the viewer, not the viewer happen to them. I want them to stand in front of a work and ask it to speak to them – to that non-thinking part of the brain so that they may experience that which I experience: what the painting wants ME to experience – a Meditation.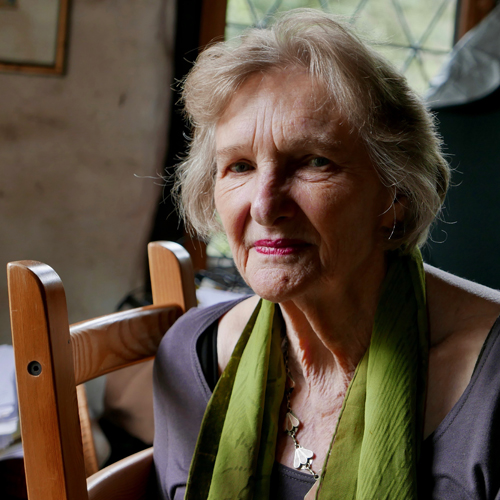 As a teenager I was excited by the impressionists.  At home were the highly professional miniatures of my Great Great Grandmother Ann Land Boddy who in the 1800's established "Morton College" on the outskirts of London along Holloway Rd. where she taught arts, music and languages. My Grandmother and Great Aunts were accomplished painters so that it all came naturally to me. Much of my childhood was spent confined to bed as an asthmatic which gave ample opportunity to paint, to draw; to make things.  As a nine yr old I befriended and was encouraged by David Walker a commercial artist and a wonderful water colourist 
At 14 I won a scholarship to Swinburne Art College but due to financial constraints was forced instead to seek employment. I sort private tuition choosing different fields. In 1964 I approached John Brack at the National Gallery Art School Melbourne who said  "Go back to your own studio, you are doing alright Janet.". He invited me to join life drawing classes on an informal basis. I also attended the Art History lectures of Prof. Joseph Burke (illegally) at the University of Melbourne.
It wasn't until 20 years later that I was able to consider painting as a career. 
I was particularly inspired by such painters as Arthur Boyd/ John Olsen/ Brett Whiteley/ Yvonne Audette/ Erica Mc Gilchrist & The American Expressionists.  
In 1965 I held my first solo exhibition at Toorak Gallery where graduates from RMIT: Doug Wright, Gerald Bland and John Bursill were launched in the same year. I have followed Doug's work with great interest.  
That year I was appointed Senior Art Mistress at Morongo P.G.C. Geelong and held the position until 1968 when I began painting full time and exhibiting regularly.
My first break came when I was fortunate to be invited by Stanislaus Rapotec to join his 'Master class' at the University of New England together with Laurie Paul/ Irene Amos/ Brian Hatch/ Patrick Hockey and Lynne Head. We attended during the summers of 1965 to 1968 and formed close bonds.  Rapotec launched the six of us with an exhibition at the Gill Gallery Armidale and Strawberry Hill Gallery Sydney.
In 1969 I moved to the Gold Coast where I shared a house and teaching studio with Surrealist painter Laurie Paul. Patrick Hockey was a constant visitor.
My next break came in October 1969 with my first art award (Bundaberg contemporary), in that year I won three awards. 
I moved to Eltham in 1970 to build my mud brick studio-home where I have been living and painting since. During these times I have worked closely with painter Lief Nielson and painter/ printmaker Wendy Jonas. I am passionately involved in the Arts of Eltham/ Diamond Valley/and Nillumbik Shires where I have participated on Panel discussions, Public forums, Eltham Arts Council, Reference Groups and Committees.  *During 2016 I participated in the ongoing 'Welcome to Eltham' Syrian refugees Butterfly' project.
Another important break came in 1976 with an invitation from Alan McCulloch  to participate in the 'New Generation Victorians' Exhibition alongside 13 other young painters which included Jenny Watson. It was Alan's aim to launch *"Young painters, most of those whose work has made an impression in local exhibitions during the years 1973 -76." 
**"Where do they come from and who are they a nation's leading artists of tomorrow? It is not star hunting but the worthwhile desire to seek out some of our best and display them – chosen from the most impressive of the last three years."
During the 1980's and 1990's due to life threatening illnesses involving radical surgery I needed to put my studio work on hold and withdraw from the exhibition circuit. 
Footnotes:
*   Quote  A.Mc Culloch. Excerpt catalogue Mornington Peninsula Art Centre. 
** Quote  Sunday Press 11.7.76.